Design is the art of
combining aesthetics with functionality.
Painting patterns... Some think this is the profession of a carpet designer. But there is truly more to this. The interaction of idea, material, colour, technique and application must work perfectly to create a visually and qualitatively high-value carpet. Of course creativity has the highest priority, but this is always accompanied by the optimal production and economic factors as well as the observation of social trends.
Under the leadership of chief designer
Petra Both
, who designed most of the Makalu Collection, created the
MAKALU DESIGN TEAM
with
Antje Reschwamm
and
Liane Neubert
carpet designs at its best. Also individualized customer designs are created by Petra, Liane and Antje exclusively.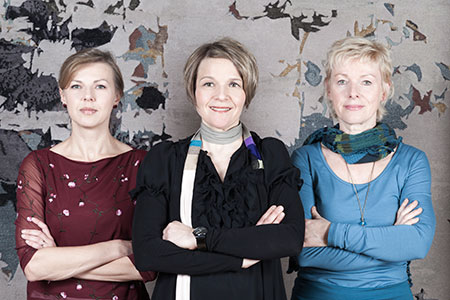 from left: Liane Neubert, Petra Both, Antje Reschwamm
Petra Both
finished her studies in art education, focusing on sculpture, in 1999 with a master's degree. After a training course in the field of graphic and DTP, Petra was hired by
MAKALU® DESIGN
as a designer in
2003
. As the head designer, she was soon creating the Nepal and hand tufted collections and she personally monitored the implementation of production in Nepal. In 2006 she won the international
CARPET DESIGN AWARD
as a
finalist
and then went to PAULIG with the acquisition of
MAKALU® ­DESIGN
. With a degree as a
media specialist
in 2010, she expanded her field of competence and now works for the overall ­aesthetic appearance of the complete
PAULIG®
Group.
In 2015 Petra was again nominated for the international
CARPET DESIGN AWARD
with one of her rug designs
Known in the business for many years, you can still find
Antje's
carpets from former times on the market. As a matter of fact an award winning
Reschwamm
design decorated the floor of the German pavilion at the World Fair in Seville. Antje's feeling for trends and her technical know-how, which enabled her to produce her ideas right after her graduation in her own studio, are the basis for her extraordinary talent to create new carpets with exceptional patterns.
The graduate in textile design
Liane Neubert
finds inspiration everywhere – in nature, in fashion and art. Liane's courage to use unusual material blends as well as her keen sense of the interplay of colours, structures and patterns result in carpet designs of the highest designer level. With her excellent craftsman skills and technical knowledge,
­Liane
manages to realize even the most unusual wishes.